Temeda is pleased to announce our newest data analytics dashboard, the Maintenance Dashboard! The browser and phone app are part of the 2.57 release.
The Maintenance Dashboard provides a quick visualization of the key maintenance service metrics for your assets, machinery, and equipment.
Service managers in your company can now get a high-level overview of the maintenance department, with a simple visual display to analyze maintenance productivity, identify trends, track parts and labor costs, and see where improvements can be made to operate more effectively.
Want to learn more? Read all about the Maintenance Dashboard in our Help Center.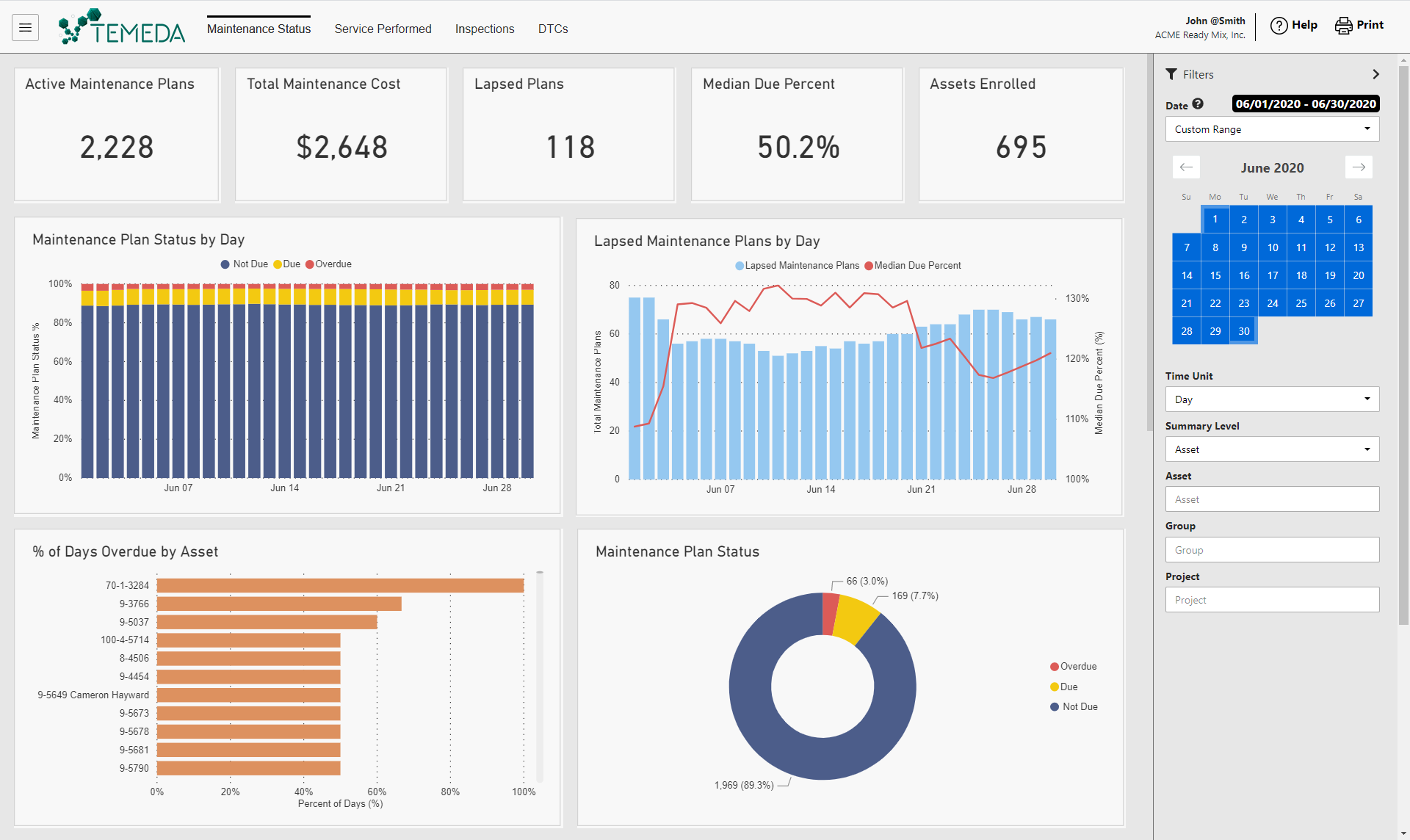 What maintenance questions have you asked…?
… And which ones have you been unable to answer?
With Temeda's Maintenance Dashboard, you can get insights into any aspect of your servicing.
How many vehicles have we serviced this month? Is it more than last month?
How much money have we spent on service parts this year?
What percent of my fleet is behind on maintenance?
What Make/Model requires the most maintenance?
How many services this year were planned vs. unplanned?
How much are labor costs affecting my bottom line?
What Make/Model is the most expensive to maintain?
How long does my equipment continue to run out in the field after it's due for maintenance?
Which vehicle in my fleet is the most expensive to keep running?
How many services do we perform on an average day, week, or month?
How many vehicle inspections do we conduct each month?
How many inspections fail, and have we completed the repairs on-time?
How much time do my operators spend conducting vehicle inspections?
How often do we see Check Engine Light issues?
What is causing our most common DTC events?
Which Make/Models have the most engine issues?
Is our current staff of maintenance technicians appropriate for our service needs?